Gun Violence Prevention on the Basketball Court.
In her documentary "Bad Things Happen in Philadelphia," filmmaker Kyra Knox highlights Philadelphia communities creatively addressing gun violence.
CW: Gun violence in America
Since 2023, there have been more than 400 mass shootings in the United States alone, and it has gotten more difficult to face these tragic numbers without despairing, shutting down, or feeling infuriated all over again. Even so, we can channel our strong emotional responses into action taken at any level: participating in a local phone barrage for gun reform or donating to mental health interventions that address extremism and male violence. There are existing communities we can learn from that have taken fervent steps toward gun violence prevention. Filmmaker and visionary Kyra Knox directed a documentary that elevates two such communities in the city of Philadelphia, and one of the platforms these communities use to address violence is a basketball court.
Philadelphia has a long history of gun violence. According to the Philadelphia Center for Gun Violence Reporting, there have been 1,036 victims of shootings in the city this year alone. Knox took an ironic spin on former president Donald Trump's notorious response in the 2020 presidential debate by giving her film the title Bad Things Happen in Philadelphia—a documentary that features both the beauty and terror that exist in Philly. The documentary follows the stories of individuals who lost loved ones to arms-related violence: mothers who lost their sons, and young adults who lost friends and family. Knox also captures Philadelphia's gritty and vibrant creativity, strong community ties, and an outstretched resilience that comes from a deep love for the city.
"This is where I grew up. We're filming in the playgrounds where I grew up," says Knox in an exclusive YES! interview with Knox, Garry Mills, and Mark Mims. "When I filmed, it's not just the bad things that's happening in Philadelphia, but also the good shit happening, too. Even though all this chaos is going on around us, it's a story of hope that we have not given up on our city, because we love our city. We love Philly. I love my city!"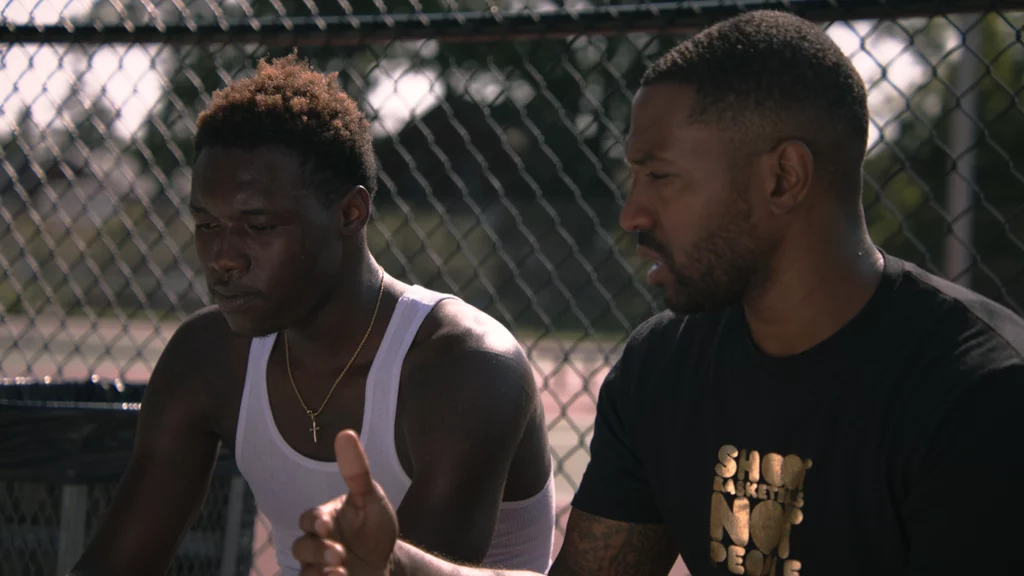 The Basketball Court as a Playground for Change
The documentary centers three young adults who are a part of Shoot Basketballs Not People (SBNP), an organization founded and primarily run by Garry Mills, with the mission to "use basketball as a vehicle to change and save lives."
During our interview, Mills shares his model for coaching: "I consider myself a players' coach," the type of coach who not only mentors young players, but also builds lifelong relationships with them. "I needed to pull back the onions of trauma first. Some [techniques] can't even be implemented until I get to the bottom of what and where these kids are coming from." Mills reflects on what it means to understand each player's story, with their varied backgrounds and struggles—which sometimes involve losing multiple family members in one year. "Some of these things are hard to process because I've never been through what these kids are going through yet."
"It's more complex, because you'd see random outbursts from kids in the middle of the game, and you wonder where it comes from. And it's not like they're angry, but that the kid hasn't eaten yet or gone to school today." Mills shares how some kids have to tackle grown-up responsibilities, like taking care of their siblings while their mom works two or three jobs. "I try to understand where the child is coming from before we get to the teamwork and sportsmanship piece."
Research shows that children exposed to gun terror endure negative short- and long-term psychological effects, including post-traumatic stress, unprocessed anger, withdrawal, and desensitization to violence. Certain minors may be at higher risk when they have been injured in gun violence or exposed to high levels of violence in their communities, schools, within close proximity, or in media. Now that children and young adults have protocols in school for when a shooter enters the premises, it's no wonder why they are more susceptible to the negative effects of trauma: They constantly fear for their lives.
In Bad Things Happen in Philadelphia, Kalil Camara, a young member of SBNP, shares that his experiences in Philly shouldn't have to be normal for anyone, let alone a young adult. Organizations like Shoot Basketballs Not People are invaluable when inner-city youth are burdened with fear and grief, and the role of play has been core in the organization's interventions.
Play is a familiar experience in a person's early life. One of our first social interactions is in the context of play. It is our earliest form of communication; even before we develop language skills, we play. Play is vital in our survival and in child development, because it helps with building social skills and releasing energy, which is needed for high physical vitality in little kids.
Studies show that moderate sports involvement for youth—three to six hours per week—could result in lower depression scores than for the low sports-involvement groups of two hours or less per week. Sports can also be enjoyable and useful for relationship-building. In another interview with YES!, Allen Iverson, NBA legend and one of the executive producers of the documentary, shares his own experience with the power of play in sports: "Basketball has been a huge part of my life since I was a kid. It's helped me deal with a lot of emotions." He highlights how basketball has been not only a sport to him, but a lifeline: "When I was going through tough times, basketball was a way for me to escape and forget about my problems for a while. It was also a way for me to express myself and feel like I was in control."
Gun violence prevention doesn't have to be at the expense of kids' youth. SBNP does its work against gun terror while letting kids play. The organization has not only been at the forefront of helping kids process trauma through play and intentional mentorship, but according to the young players and parents interviewed in the documentary, it has also been an avenue for saving lives.
Mark Mims, executive producer of the film and co-founder of Home Studios, an award-winning production company that elevates creators and stories in the margins, also joins our conversation. He shares his thoughts on Mills' work with the youth: "They're close. Like, they're close. They're like family."
Even after their time at SBNP, young players are still able to access Mills' support. His part in their lives goes beyond his role as coach, according to Mims: "[Mills] is building family units. You don't see that often, which makes Shoot Basketballs Not People so much bigger than basketball. He's building community. You don't see that anywhere."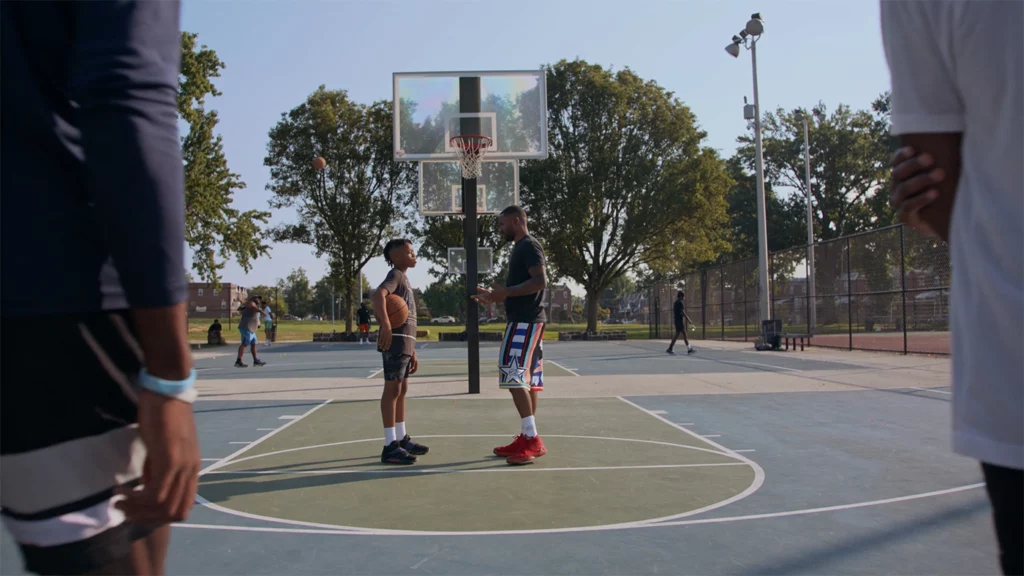 Avoiding the Exploitation of Trauma in Filmmaking
To Knox, Bad Things Happen in Philadelphia is a love letter to her city. With that in mind, she facilitated her interview process with attentive care by avoiding the commodification of trauma stories. She notes that because she grew up in Philly, her neighbors trusted her.
"I'm not here to exploit anyone… I'm not in the business to exploit these stories, but for these stories to be heard." While filming—knowing how vulnerable it can be to share personal stories about gun-related crime—Knox frequently asked for consent from interviewees, checking in with them to see if they approved of the footage; when they didn't, Knox removed the footage her interviewees did not consent to adding to the film. The commodification of trauma is not unusual within the film industry, especially when it comes to the trauma of Black communities. Knox's ethical practices are critical at a time when the entertainment industry makes spectacles out of real suffering.
Mims addresses the complexities of film distribution, and how the entertainment industry tends to view documentaries like this as nothing more than a product, without "caring enough about the people in [the] film. It's very infuriating… I don't play that game," says Mims. He contends against the commercialization of grief in order to incite an audience response. It shouldn't take showcasing a community's pain to incite social action. Mims and Knox take these sensitive matters seriously, making it imperative to maintain the humanity of the film. This is especially the case when Knox, Mills, and Mims are immersed in the communities of Philadelphia and have also lost family and friends to gun violence during production.
"It's so hard navigating this space. I'm dealing with these mega-billion companies that don't care about what's going on. [Now that] I have something that's my own, I've been protecting it like a baby, and I don't give a shit how much money [executives] are gonna offer me if they're not gonna do right by this film, these organizations, these kids, and these mothers," Knox says.
Mims calls the documentary "a loving tribute to what's happening to Philly, but not reducing it to what's just happening to Philadelphia." Iverson hopes the film inspires people "to see that despite the bad things that may happen, there's always a chance for positive change and growth."
When you watch the film, you will see how the relationships within Shoot Basketballs Not People and their connection with the film crew make safe spaces for play possible. May our relationships also rest at the heart of all our movements against injustice and threats to our safety, including gun violence.
To learn more about Shoot Basketballs Not People, you may go to their website. Mothers in Charge, a violence prevention center, is another community the documentary spotlights. You may learn more about their work here.
---
Gabes Torres

is a psychotherapist, organizer, and artist. Her work focuses on anti-colonial approaches and practices within the mental health field. She also focuses on abolitionist organizing on a global scale. You can find most of her work on her official website, www.gabestorres.com, and social media platforms, including Instagram.
---